I remember jumping out of my skin when Tony was shot at the end of West Side Story. The gunshot was so loud. And then, I cried like a baby…I had no idea he died in the end. Another memorable moment was sitting in the right center section of the orchestra seats for Grease, and I swear, Danny winked at me! And nobody will ever convince me otherwise.
I saw Jim Dale and Glenn Close in Barnum. It was all about P.T. Barnum before Ringling Brothers, Barnum & Bailey Circus came about. There were a lot of memorable songs from that show. "The Colors of My Life" was a slow, pretty song…I used to sing that a lot back before I cared about how poorly I sang. "There's a Sucker Born Every Minute" was a great, upbeat song, and I would blast that on my cassette player at home. Again, after the show was over that night, we waited outside the backstage door for autographs, and I had my picture taken with Jim Dale (he played in the movie, "Pete's Dragon"). I told him he looked like Charles Ingalls from "Little House on the Prairie," by his reaction, I don't think he ever had anyone tell him that before. It was so much fun hob-knobbing with the stars. Too bad I didn't get my picture taken with Glenn Close.
I saw Lucy Arnez (Lucille Ball's daughter) and Robert Kline in They're Playing Our Song. Talk about a catchy tune…I think my mother regretted my ever seeing that one. I was forever singing, "They're playing our song, oh yes, they're playing our song, and when they're playing our song, everybody's gotta shh, shh, shh, shh…listen to that sweet melody…." The show was about these songwriters…actually, I don't remember a whole lot about the story line, but the theme song was truly memorable.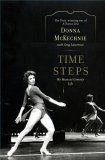 Time Steps: My Musical Comedy Life

Donna McKechnie began her love affair with dance as a child in Detroit. At fifteen, she ran away from home to join a touring dance troupe... In 1975, with her Tony-winning performance in Michael Bennett's masterpiece, A Chorus Line, McKechnie vaulted to stardom as a unique Broadway "triple threat" who could do it all -- dance, sing, and act.

Filled with behind-the-scenes stories and anecdotes, Time Steps is a candid, funny, and deeply personal memoir by a vivacious woman with an indomitable spirit and an illustrious, ongoing career. => Buy It Now!
A Chorus Line had the greatest impact on me, aside from Annie. I was about 11 or 12 when I saw that. I remember it had way too much foul language. I was a very straight-laced kid, so when they sang the song, "Tits and Ass", I was mortified and wanted to hide under my seat. But, besides that song and a few choice phrases, I loved that show. It was about these people who came to audition for a show. The stage was bare…no set…just a stage. The performers all stood in a line equally spaced apart across center stage. The director sat in the audience and spoke to the performers like we, the audience, weren't even there. Then, each person would "share" a little bit about themselves as part of their audition. Some of them were cut and the remainder rehearsed for the opening night of their show. There was also some sort of lost love relationship between one of the performers and the director, and that story line played throughout the show. But mostly it was about what went on behind the scenes of putting on a show.
Sometime in the middle, they began rehearsing this big dance number, "One." Throughout the whole rest of the show we'd see bits and pieces of this number coming into place, but there were always other things going on to distract you from the actual number. Then, the time came for the finale… The stage went dark. One person was standing in the center with her face in a tight spotlight, and the song began, "One…singular sensation…." She did a string of steps to the first line of music while donning a gold sequenced costume with matching top hat and black cane. Then…another spotlight hit the next person as he took his place behind the first, "One…moment in her presence…" and he, too did the same string of steps to the second line donning a matching gold costume. The same phrase of music kept repeating itself over and over again, and at the start of each phrase, a new dancer appeared and the next thing you knew, the stage was full of dancers all dancing in unison in the shape of a triangle. The music swelled and the voices got stronger as they all lifted their top hats straight up over their head and kicked simultaneously. The triangle rotated, and then the wall panels in the background that were once black became a wall of mirrors…and the music was larger than life. The dazzle of the shimmering gold under the lights, the sound of the syncopated steps on the wooden stage, and the fluid movements of one mass of dancers were breathtaking. And then, "ONE!"…Everything stopped. The lights went dark, the music went silent, and you could hear the heartbeat of every person in the theater. "ONE!" The lights went on in an instant and back off again just as quickly. "ONE!" It was like a single repeated beat on a drum. And one by one each dancer disappeared off the stage until there was one left…the one from the beginning, and the number ended with a tight spotlight on her face and then black. The crowd went wild. Oh, how exhilarating! How anyone could sit through that and not want more is beyond me. I was hooked! I came to need that magic…that electricity. That moment in time summed up the reason why I wanted to be a performer on stage. It was magnificent.
Again, there were other shows I went to that entertained me, but nothing could compare to that experience…except for Annie. Annie was to this day, my all-time favorite. It was about a little orphan girl who believed her parents were going to come back for her someday. It was about a miserable, good-for-nothing woman who looked after a bunch of orphaned girls who despised her. It was about a very wealthy man who was looking to make a philanthropic gesture in inviting an orphan boy to stay for Christmas as his guest, and in turn found the pearl to his oyster in a little girl named Annie. It was a wonderful story.
I first went to see the show when I was ten. Shelly Bruce played the part of Annie and Alice Ghostly was Miss Hannigan, the good-for-nothing woman in charge of the orphanage. Sarah Jessica Parker was one of the other orphans. I guess what captivated me the most was the fact that all the orphans…and the lead were all kids…just like me. They sang songs I could sing, and did sing, and I wanted to be one of them…not a parentless kid in a rotten orphanage, but an actor performing on a stage to a packed audience every night.